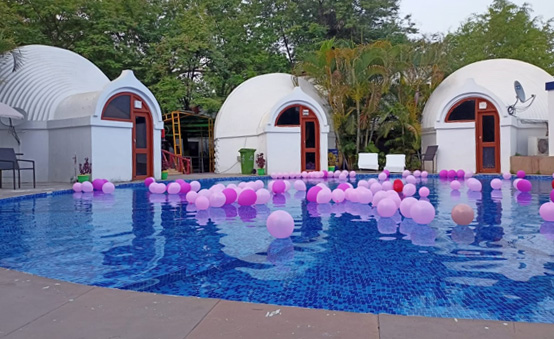 A Stylish Stay for Your Comfort
Igloo shaped cottages, a unique and unmatched design equipped with a private splash pool where one can enjoy the cold splash with a cup of tea and warm snacks.
These cottages are such designed that the inside temperature is always upto ten degrees less than the outside temperature.
The brick corbelled architecture, roof design without the use of reinforcement covered with shady palms makes it one of the most sought after cottages.
A Wide Range of Room Amenities

Telecom connection with calling facilities.
Mini Refrigerator applied with modern technology.
Interactive LCD TV
Mineral water bottles - complimentary.
Tea and Coffee maker
Comfortable table and Chair for Reading and Writing.
Electronic In Safe.
Cupboards and Extra storage spaces.
Best Quality Bathrobe and Slippers
Laundry and Dry Cleaning services
24*7 Room Services
special offers
Exclusive Offers for Our Guests